Details
QuickOPC.NET 5.04 and its associated Bonus Pack have been released today. These new versions add support for 64-bit development (x64 platform), with separate set of assemblies allowing to take full advantage of modern processors. Component interfaces remain identical between x86 and x64 platforms, allowing a single source code to target multiple platforms.
Details
QuickOPC-COM 5.03 and QuickOPC.NET 5.03 versions have been released today. The new versions contain separate set of .NET Framework 4 assemblies, while keeping the possibility to target earlier versions of .NET Framework (2.0, 3.0 and 3.5). The components integrate seamlessly with Visual Studio 2010; we continue to support Visual Studio 2008 as well.
Details
Version 5 is a brand new version with interfaces that are tailored to .NET, abandoning the COM automation heritage in the API.
Details
The OPC Europe Marketing Region's primary mission is marketing and evangelizing the OPC Foundation, OPC Foundation Technology and OPC Product Certification throughout Europe.
OPC Labs has become a Country Representative for Czech Republic, with Zbynek Zahradnik as the person appointed. We aim to arrange OPC-related activities in the country, and provide feedback to OPC Europe on its efforts.
Details
This year we have added QuickOPC.NET to the interop portfolio, and have successfully tested it with numerous 3-rd party OPC servers. QuickOPC.NET received the "Self-certified" logo.
Details
QuickOPC-COM 5.02 and QuickOPC.NET 5.02 versions have been released today. These versions include OPC UA Proxy, and allow programmatic access to OPC Unified Architecture (UA) servers using the same easy model as with traditional OPC servers. The release shows our commitment to follow the cutting edge OPC technologies closely.
Details
We have used OPC Interoperability Workshop in Nuremberg to further strengthen the robustness and reliability of QuickOPC (COM), and upcoming QuickOPC.NET product which is under development and will be released in 2009. Simply put, our client code can connect to any OPC Server we know about!
Details
This is a brand new versions for customers who use COM automation development tools. We have back-ported the improvements made while developing QuickOPC.NET 5.00 into the COM product, so that the associated customer base can benefit from them too.
Details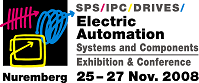 On this great exhibition, we have a stand in OPC Foundation booth. OPC Labs products and services will be actively presented all day long. Come and visit us between November 25-27 to learn latest news on our products. You will get a chance to have a sneak preview of the new QuickOPC.NET, too.
read more ...
Details
We will now use the forums as the main venue for technical support. Also, the web site has been improved in many aspects, and the information made up-to-date.