Details
We are happy to announce that QuickOPC 5.40 has been released today. This version brings several important improvements:
Support for OPC UA Alarms & Conditions
NuGet package distribution format
.NET Framework 4.5.2 targeting
Event pull mechanism
Details
We are proud to announce that OPC Labs will be co-sponsoring the OPC and MES Day Finland that takes place on Tuesday, October 7th 2014 at the Dipoli Congress Centre, Espoo.
This autumn the event will be organized in co-operation of the Finnish OPC Committee and MES Forum. The organizers are expecting to have an audience of about 150 enthusiasts of the domain. The language of the event is English.
Details
Just in case you could not find it, here are our social media links:
Details
We are releasing QuickOPC version 5.31 today, with two key improvements.
New browsing controls (for OPC Classic and OPC UA) allow you to integrate OPC browsing right on your forms. Unlike with the browsing dialogs, you have full freedom in creating your own visual appearance and behavior of the form.
QuickOPC.NET now directly supports OPC XML-DA Specification Version 1.01. What's even better, there are no new components for this - the XML-DA support is seamlessly integrated with OPC Data Access. You can work with OPC XML-DA servers just as with COM-based OPC Data Access servers, simply by specifying the server's URL in place of the usual machine name and server class (ProgID).
Details
It's THE event to meet members, OPC-board representatives, technology experts, evangelists, vendors, customers. Starting in 2011 at SAP, Germany and 2012 at Endress+Hauser, Switzerland and 2013 at Yokogawa, Netherland  the OPC-Day Europe 2014 is hosted by FESTO in their QH in Germany.
Details
As a certified client product, QuickOPC for Unified Architecture is now in use by OPC Foundation certification test lab to perform the interoperability tests. QuickOPC-UA is used as one of the reference clients.
Details
We are happy to announce that QuickOPC 5.30 has been released today. Our customers will certainly appreciate that QuickOPC 5.30 is officially certified by OPC Foundation for OPC-UA compliance - no other OPC-UA client toolkit or SDK has been awarded this certification so far.
In addition, QuickOPC 5.30 now natively supports .NET Framework 4.5.
Details
Real Games (http://www.realgames.pt/), a creator of FACTORY I/O automation sandbox and HOME I/O, a smart house simulation, now uses QuickOPC in its visual programming environment, CONNECT I/O.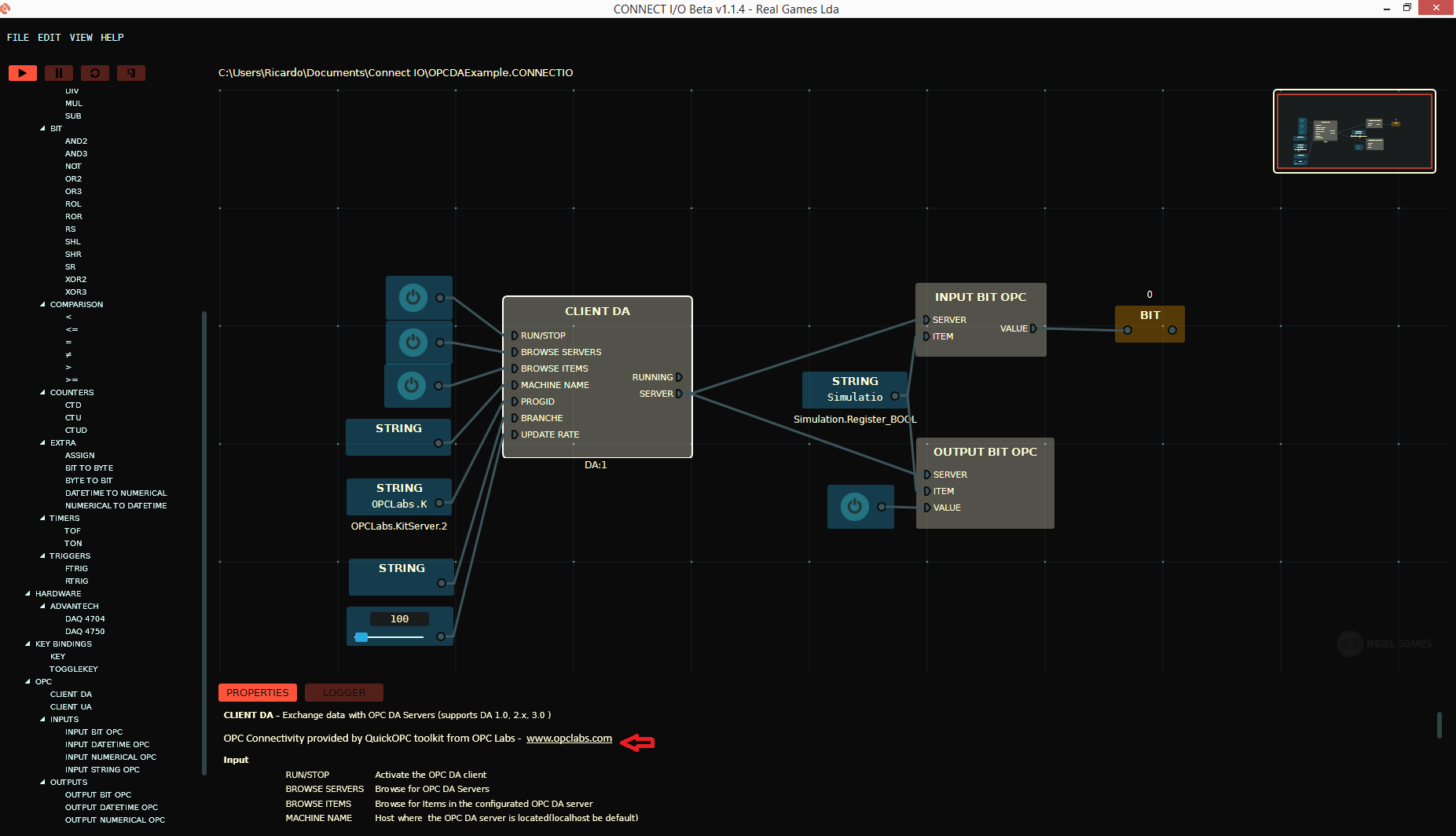 CONNECT I/O is an application which is able to communicate with different types of technologies, both software and hardware, and works as a bridge between them. The application is a visual programming environment that allows you to draw data flows and programs. It enables the creation and control of data flows between input and output points. A built-in function blocks SoftPLC plugin is included. CONNECT I/O also presents a modular design which allows new functionalities to be implemented with plugins.
Details
Today, the OPC Foundation Certification Testing Laboratory has awarded the OPC Certification to QuickOPC. The certified version is 5.30, and we will be releasing it in matter of days. The certification demonstrates OPC excellence in compliance, interoperability and robustness.
Details
The OPC Day Europe 2014, hosted by FESTO near Stuttgart, has been a great success, OPC Labs sponsored the event, and affirmed its position as a leader in .NET-based OPC client toolkits, with QuickOPC as the only officially certified product of its kind on the market. More...